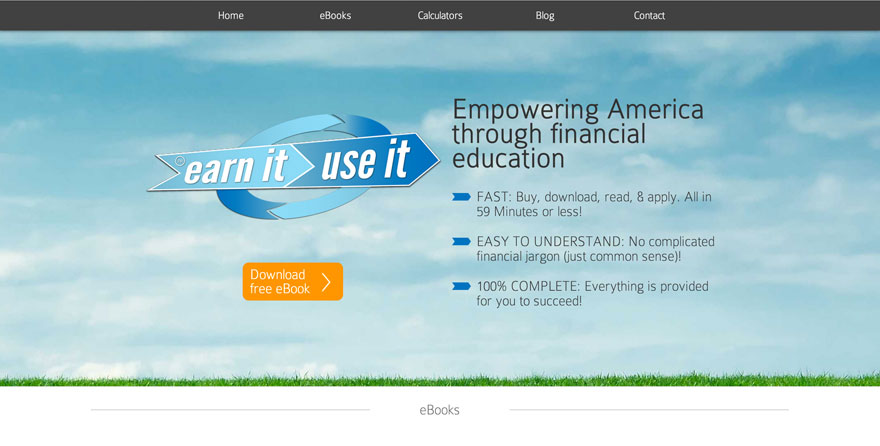 "Earn It Use It" is a series of e-books written to help simplify things like retirement planning and investing. The client wanted a custom design with a responsive layout, E-commerce capabilities, integrated email list handler, and customized WordPress installation, among other things. High on his list of priorities was the ability to entice email list signups by offering a free digital download, as well as various discounts for purchasing his ebooks. As an author and financial planning expert, his intention was to keep a weekly blog of how current events could impact individuals and send that out to his list of email subscribers automatically as each new post was published. As new books were written and published, this would also allow subscribers to be informed of new books.
The client wanted a clean design, free of clutter, with a look that would appeal to the 30 – 45 year old demographic. One of their fundamental principals is that wealth needs to be enjoyed more as a means to a lifestyle than seen as something that must be hoarded. They asked me to design a logo in calming colors that reflected the cyclical interconnectedness of investing your resources to create more resources, but also of using the money that you earn to enjoy your life. The rest of the site was designed to both emphasize and reinforce the logo. The only part of the site that I didn't have a hand in was the ebooks themselves.
I used a combination of Shopify and Digioh to handle the e-commerce aspect of the site because I found it to be a fairly customizable platform with a simple but powerful back-end that my client was able to navigate sufficiently. For the email list, I found that Aweber (in conjunction with SendOwl) was similarly flexible, easy to use, and allowed me to automate nearly everything so the client could focus on writing new posts and new ebooks. Both platforms also allowed me to customize the email templates and most of the landing pages so we could maximize branding potential.
The ebooks also feature links back to a page on the site where calculators can be used to help readers figure out their finances based on input from them. The calculators had to be imported to the site via iframes, but were still customizable in a round-about way.