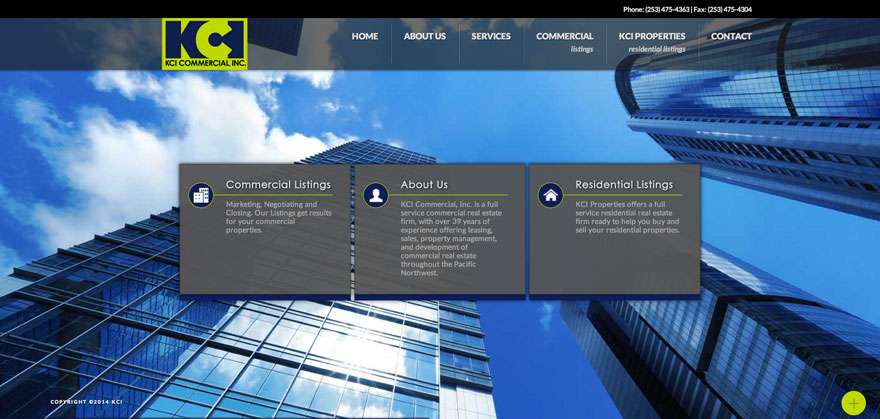 The commercial real estate company KCI came to me in dire need of a site overhaul. They had just undergone a rebranding campaign with a new logo, new signs, and new color scheme. For the most part, what they wanted was a static, brochure-style website that looked professional and competitive to go with their new branding. While they weren't necessarily needing to regularly maintain and update their site with content, they were handling a few residential properties (only about 8 or 9 a year) which they wanted to include on the site, and they wanted to be able to update and maintain that section. They liked the look of a full-screen background image and said they had plenty of photos of their properties to send me, and while their old site wasn't exactly pretty to look at, it was rife with useful and pertinent copy.
With an expectation of relatively low traffic and the need for simple back-end access, I went with a WordPress installation. It was difficult to find a theme that could handle residential real estate listings without making that the focus of the site (which my client wanted to avoid), and even more difficult to find a good businesslike theme with a fullscreen scrolling background image. However, there were plenty of solid photography and portfolio themes that could at least handle the tricky parts, and a few plugins that could handle the real estate listings. All I had to do was modify both with a child theme to suit the purposes and color scheme of the new site.
We went with the Digon Theme and the WP Listing plugin to handle the residential listings, both of which I modified extensively, and we were off and running. The biggest hold up on this site turned out to be the background images. The ones that they had didn't work well for their purposes, so we went with some stock photography instead.