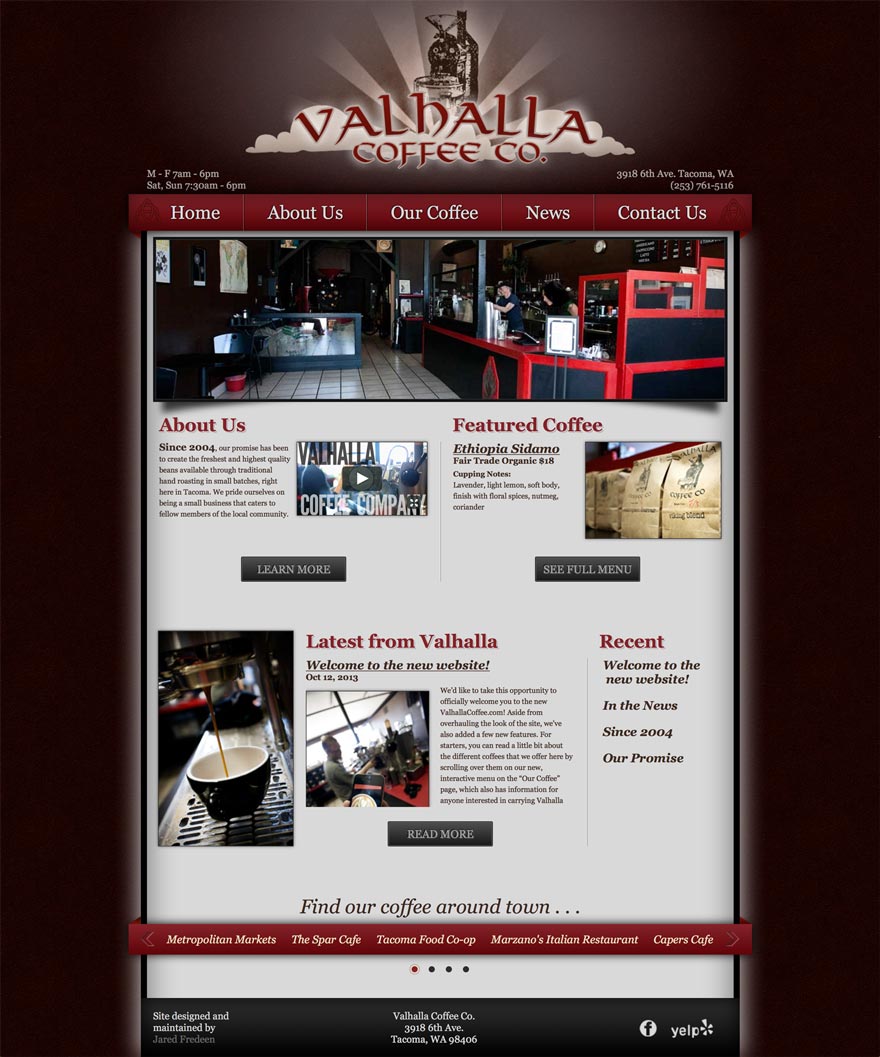 Valhalla Coffee Co. is a small coffee shop in Tacoma where they roast their own beans, create custom blends, and I can unabashedly say that they also brew the best coffee that I've ever tasted. They came to me in desperate need of a site overhaul. The one that they had was poorly shoe-horned into a WordPress installation and lacked aesthetic appeal as well as functionality and usability.
I began by creating a look that was more in line with the look and feel of the shop itself. I used the font from their menu (which, as luck would have it, was Georgia, which is a nearly universally recognized web font) as my base, and used colors from pictures I had taken of the shop as my color scheme. The owner had told me that the inspiration for the name of the business was a tribute to his Scandinavian heritage. In Norse mythology, Valhalla was essentially viking heaven, so I used that imagery in re-branding his logo, reinforcing that association with Norse knot work on either end of the menu bar.
Though the owner had only a vague list of things that he wanted in the site, one of them was that he wanted to clearly show the local distributors where his coffee could be found around town. I handled this with an XML-fed horizontally scrolling list just above the footer of every page. To make sure that every business had a fair chance of being seen on page load, the list is randomized every time it is loaded.
The menu was also a very important part of the site that we needed to streamline. The old site made the menu very difficult to find and inconvenient to read, so I decided to emulate the look of the menu that was found in the shop itself and make it interactive. Now, to get a description of the coffee, the user could simply mouse over or click on one of the types of coffee.
Instead of ditching the blog functionality altogether, I was able to integrate it into the aesthetic of the site by customizing the Blank Slate theme and using it as the "News" section of the site. The entire site was then made responsive for smart phone. In doing so, some features that were deemed less conducive to the mobile context were left out or reconfigured.